Convenient

and

Confidential

Hypnosis Services in Dallas, Texas

For more information about our hypnosis services:
Some of Our
Most Popular

Services:
Grief Issues
Shyness
Pain Management
And More!
Read testimonials from our clients
Rapid

Hypnotic Change

Most issues that we work with are completed in 4 to 6 sessions. Smoking cessation may be as little 2 sessions. Learn more..
Working With
Physicians
All hypnosis involving medical conditions, such as managing pain, are always done under the supervision of a physician, or by referral. If you want to use hypnosis to help you with a medical conditions, give us a call. We are used to working with physicians and know how to set-up the referral. We have a nurse hypnotist who specializes in pain management, medical conditions and natural childbirth using hypnosis for pain management.Learn more..
Training

in Hypnosis

Time for a career change? We offer training leading to certification in hypnosis by the National Guild of Hypnosis (NGH), the oldest and largest hypnosis organization. We also offer other workshops and seminars to professionals and others in using hypnosis. For example, self-hypnosis and relaxation training for stress management and personal achievement. Learn more..
---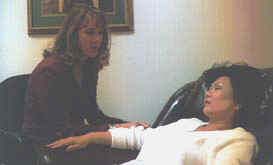 At the Hypnosis Center, your hypnosis session will be private. These one-on-one sessions tend to provide you with the best results. Individual hypnosis sessions at the Hypnosis Center offer:
Private, confidential, one-to-one sessions to provide the highest level of success.
Simply the most experienced hypnosis provider in the Dallas, Texas area!
We have provided over 8,000 individual hypnosis sessions since 1996
Your session is completely

confidential

(confidentiality is required by law).
Your hypnotist will answer all of your questions about hypnosis so you will be informed and at ease for the hypnosis part of the session.
Your hypnotist is able to customize your hypnosis sessions for your particular needs and considerations.
Your hypnotist will be able to ensure that you

are

hypnotized and have reached the appropriate level of hypnosis for your hypnosis session.
You will develop a good working relationship with your hypnotist so that he or she understands your concerns and goals.
The Original Hypnosis Information Line!
Call for 24 HOUR recorded information about hypnosis! Toll-free in Dallas, Texas. 800-965-3390
Dear Visitor
Here are a few things to keep in mind as you decide on where you would like to go for hypnosis services:
Professionals come from all across the country and from around the world to learn the advanced techniques that we use to serve you.

When you come to the Banyan Hypnosis Center you come to the most advanced and professional hypnosis facility dedicated strictly to hypnosis in the Upper Midwest and perhaps in the world.

There is simply no better place to go for hypnosis services.

Thank you for considering the Banyan Hypnosis Center for Training & Services, Inc!
We hope you will choose us so that we can serve you. We know you will be glad that you did.
Sincerely,


Calvin D. Banyan, MA
Board Certified Hypnotist
CEO