This
Complete Set

Is Dedicated To The

7th Path Self-Hypnosis®

System

This Is The Ultimate Hypnosis Training System For Self-Improvement

At last! A complete cd set dedicated to teaching you how to use The 7th Path™, our holistic, Mind-Body-Spirit approach to self-hypnosis. Join in on this live recording of a 1-day workshop presented by Calvin Banyan where he teaches the first 5 Recognitions. These Recognitions are the 7th Path Self-Hypnosis® Recognitions that are used for personal change and transformation.

Your instructor will present in class:
Introduce you to the art of self-hypnosis, the 7th Path way--A holistic, Mind-Body-Spirit Approach

How to make your highest beliefs and/or spirituality into a part of your own self-improvement

How to quickly take yourself into hypnosis in seconds and give yourself hypnotic suggestions

How to write hypnotic suggestions for just about any kind of self-improvement
A beautiful, intriguing experience of the brain and mind.
Michael Vandall, M.D.
A
Mind-Body-Spirit

approach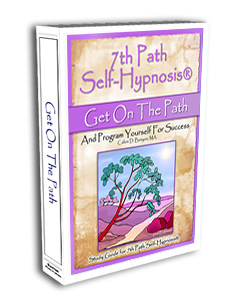 Click here to see the list of contents for this CD set.
Contains 6 Compact Disks
7th Path™ Handbook
Model of The Mind Handout
Approx. 5 hours 45 Minutes Total
If making good positive changes in YOUR life is what you want, and you are not really interested right now in hypnotizing others, then this is the CD set that you want.
The 7th Path Self-Hypnosis® System Is A Mind-Body-Spirit Approach
The 7th Path Self-Hypnosis® Training System combines the benefits of meditation with the power of self-hypnosis to help you make good positive changes in your life.
Practitioners of this new system, will benefit in many ways because it is a holistic approach. This means that as you work on a particular issue such as improving motivation, concentration, breaking a bad habit, or whatever, the positive effects of using this system will affect many other areas of your life.
The 7th Path™ System does this by first removing old negative programming from your past first, such as limiting beliefs and habits. Then, you begin to work on any specific issue that you care to focus on.
For more detailed information about the 7th Path System of Self-Hypnosis click here.
Do Want To Lose Weight? Click Here For Important Info. About 7th Path™
This entire set of CDs contains a workshop on 7th Path Self-Hypnosis, held at Banyan Hypnosis Center for Training & Services, Inc.
It is similar to The 7th Path™ System Self-Hypnosis and How To Hypnotize Others CD set, except that all of this tape set is dedicated to teaching you how to use this powerful system of personal improvement.
This program takes you through a complete hypnosis do-it-yourself approach to working with many of the issues that most people want to work on using hypnosis.
Listen to the Sample
Note that this is one of our Class on CD series and does not qualify for the 60 day money back guarantee. This program is guaranteed against defect. If a CD does not work because it is defective it will immediately be replaced.
This is a recording of Calvin D. Banyan, MA, CI, BCH, FNGH, teaching a small group of students right in his office at Banyan Hypnosis Center for Training & Services. You will listen in as Calvin discusses how the system was developed and hear the student's comments about the 7th Path™ System as they begin to use it.
As you follow along, you to will lean the process by doing. Your instructor will guide you and the class into a very pleasant state of self-hypnosis, and teach you how to return to the state on your own. In the class he covers the fundamentals of what you need to know about hypnosis, the subconscious, unconscious and conscious parts of the mind, so that you will have a full understanding of what you are doing.
Ways
7th Path Self-Hypnosis

Can Help
Change Habits

Stop or Reduce Smoking
Increase Exercise
Stop Nail Biting
Reduce Snacking

Sleep & Sexual

Go To Sleep Quickly
Go Back To Sleep Quickly
Sleep Through Snoring
End Premature Ejaculation
Increase Potency

Social Confidence

Speak Confidently
Overcome Stage Fright
Increase Confidence
Overcome Shyness
Improve Mood

Sports

Hit the Ball Straighter
Improve Swing
Go To the Gym Regularly

Stress & Anxiety

Reduce Stress
Lower Anxiety About Anything
Reduce Anger

Success

Reduce Procrastination
Increase Motivation
Increase Sales
What you will
learn and receive
How to induce self-hypnosis in just 30 seconds or less.
Use naturally occurring hypnotic states that cannot fail.
How to give yourself hypnotic suggestions.
How to write really effective suggestions for almost anything.
Learn how to use autosuggestion in the "waking" state
Emerge from hypnosis feeling really great.
Post hypnotic suggestion for ongoing change.
7th Path™ is much easier than meditation.
He covers how to write effective hypnotic suggestions to make almost any kind of change.This is important because if hypnotic suggestions are poorly written, they will be of little effect, OR even have the opposite effect!