Our Hypnotists Are Professionals
Certified

by the

National Guild of Hypnotists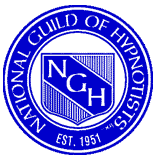 The National Guild of Hypnotists was established in 1951 by an enthusiastic group of hypnotists and Dr. Rexford L. North, Director of the Hypnotism Center of Boston, MA. With in a short time, local chapters were formed and operated in many major cities throughout the US and Canada. Important resources published by the National Guild of Hypnotists through the years have been The Journal of Hypnotism and The Hypno-Gram, the very first publications devoted exclusively to the field of hypnotism.
This unique organization continues to encourage an eclectic exchange of ideas, fellowship, mutual trust and cooperation among members--while promoting and protecting the art, science and philosophy of hypnotism.
Our hypnotists are proudly Certified through the NGH
They are re-certified each year and are subject to the standards and ethics of the NGH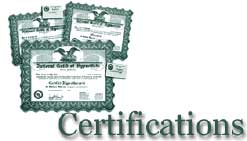 Learn about our Hypnosis Certification courses and other offerings.
The National Guild of Hypnotism provides a service for the nation, of testing and certifying Hypnotists. To be certified, a hypnotist must attend and graduate from a recognized hypnosis school, or pass a rigorous test demonstrating his or her skills. In addition to remain certified, the hypnotist must remain in good standing and continue to develop his or her skills by continuing his or her education in hypnotism.
The Banyan Hypnosis Center is the proud sponsore of the Orange County, California NGH Chapter.
Congratulations To The National Guild of Hypnotists For 55 Years Of Growth And Service
Your Annual Educational Conference is the Best!
For more information about The National Guild of Hypnotists, visit their site at www.NGH.net.
Click on the photos below to learn more about each Hypnotist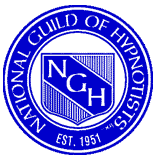 National Guild of Hypnotists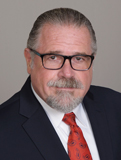 Calvin Banyan
How can we help you succeed today?
Give us a call!
469-969-2176 or 800-965-3390
Calvin D. Banyan, MA, BCH, CI, (our CEO and Supervising Hypnotist) can be seen speaking at the NGH national convention in August.
Selecting a
Qualified

Hypnotist?

When selecting a hypnotist, we suggest that you choose a hypnotist who shows a willingness to understand your issues and concerns. Furthermore, he or she should be willing to answer your questions about his or her experience and qualifications, or about hypnosis in general. You may want your hypnotist to be a medical or mental health professional (having a bachelor's degree or higher, in psychology, counseling, social work, nursing, physical therapy, or related field). If your hypnotist does not have a degree in a related field we suggest that you ask about his or her training and certification. The National Guild of Hypnotists is the largest and oldest hypnosis organization with over 6,000 members in over 40 countries. NGH Certified Hypnotists carry the designation of C.H. The NGH also provides Board Certification in which Hypnotists must meet the highest standards of professionalism demonstrated through experience, recommendation, testing and scrutiny. These Hypnotists exhibit the letters, B.C.H.
Selecting
Professional Hypnosis Training

?

Thinking about hypnosis training? Click here for some tips on how to select a hypnosis school or instructor. Hypnotists who are certified by the National Guild of Hypnotists will have the letters, C.I., after his or her name.

The instructor of our state licensed school, Calvin D. Banyan, M.A., B.C.H., C.I., was awarded the honor of being named the NGH Certified Instructor of the Year for 2002. Congratulations! We are all proud to be associated with this dedicated professional.

Questions? Call 469-969-2176 or 800-965-3390.