NGH Chapter at the
Banyan Hypnosis Center
We are the proud sponsors of the Orange County, California National Guild of Hypnotists Chapter.
Why We Sponsor the
NGH Chapter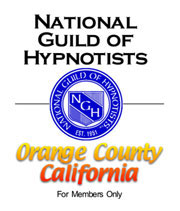 Communication: To assist members in being up to date on issues regarding the profession such as legal an ethical issues.
Cooperation: Provide the members with a way to cooperate as group in ways that would benefit its membership, such a educating the community about hypnosis, developing marketing strategies and influencing the State in legal issues affecting the practice of hypnotism.
Continued Education: Provide members with opportunities to obtain continuing education
Represent the NGH in Our Area
Provide members an opportunity to build the profession by way of building its own membership, and the membership of the NGH around the world.
All NGH Certified Hypnotherapists and Hypnotists are invited to join the Chapter. Call our office for more information