About the
Banyan Hypnosis Center
Here at the Banyan Hypnosis Center, we have been training hypnotists for over ten years. When you come to our hypnosis school, you are attending a nationally and internationally renowned hypnosis training center. We have trained Hypnotists from across the country and from 24 different countries as far away as Singapore, New Zealand, South Africa, and more.
About the
Instructor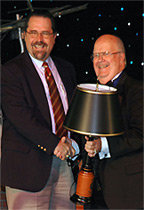 Cal Banyan (left) accepting the Charles Tebbett's Award for "Spreading the Light of Hypnosis" from NGH President Dr. Dwight Damon (right).
Calvin D. Banyan has proved time and again why he is the nationally recognized leader in hypnosis training. He has received numerous awards and recognitions, including:
Fellow of the National Guild of Hypnotists 2004
NGH Charles Tebbetts Award 2005
Cover & Interview, NGH Journal of Hypnotism, June 2005
Member of the NGH Advisory Board Since 2006
Member of the NGH Ethics Committee Since 2006
Cal created the hypnosis processes 5-PATH® and 7th-PATH Self-Hypnosis®, which are at the core of our unique and intensive NGH certification program.
Hypnosis

Training Courses

Listen now to a teleseminar in which Cal Banyan explains 5-PATH®:
Interview 1

Interview 2

Your browser does not support the audio element.