Hypnosis

Training
About the
Banyan Hypnosis Center
Here at the Banyan Hypnosis Center, we have been training hypnotists for over ten years. When you come to our hypnosis school, you are attending a nationally and internationally renowned hypnosis training center. We have trained Hypnotists from across the country and from 24 different countries as far away as Singapore, New Zealand, South Africa, and more.
About the
Instructor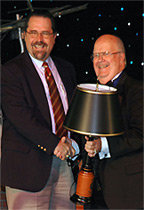 Cal Banyan (left) accepting the Charles Tebbett's Award for "Spreading the Light of Hypnosis" from NGH President Dr. Dwight Damon (right).
Calvin D. Banyan has proved time and again why he is the nationally recognized leader in hypnosis training. He has received numerous awards and recognitions, including:
Fellow of the National Guild of Hypnotists 2004
NGH Charles Tebbetts Award 2005
Cover & Interview, NGH Journal of Hypnotism, June 2005
Member of the NGH Advisory Board Since 2006
Member of the NGH Ethics Committee Since 2006
Cal created the hypnosis processes 5-PATH® and 7th-PATH Self-Hypnosis®, which are at the core of our unique and intensive NGH certification program.
Hypnosis

Training Courses

Listen now to a teleseminar in which Cal Banyan explains 5-PATH®:
Here is why hundreds of people like you choose our hypnosis training programs to begin their careers, or to obtain essential advanced training:
NGH Approved Hypnosis Training and one year membership.
Basic and advanced training in one course including 5-PATH® and 7th Path Self-Hypnosis®.
Condensed learning format so that you can get your certification quickly.
Condensed format also creates an environment of accelerated learning.
Course is designed to create Hypno-1%'ers who are among the best in the profession.
Unsurpassed support after you graduate including, fast telephone support, email support, exclusive email group on Yahoo for our grads only, live online study group, and optional support materials such as books, CDs, DVDs and more.
The opportunity to expand your practice by becoming a Certified Professional Hypnosis Instructor when you qualify.*
NEW! Read interview articles in which Cal Banyan interviews some of our successful grads!
Begin a highly rewarding, new career in hypnosis! Banyan Hypnosis Center For Training & Services trains individuals using the National Guild of Hypnotists professional hypnosis training course; plus you will learn the 5-PATH® and 7th-Path Self-Hypnosis® systems of advanced hypnosis and self hypnosis.
After you graduate, we continue to help you succeed. You can join our free online community of graduates, so you can continue to learn more and share experiences.
Course content comes alive at the hands of a master teacher...
Cory Davis, Psy.D. (Licensed Clinical Psychologist)
I loved every moment and feel honored to be among the first to be trained in this ground-breaking approach [5PATH®].
Samadhi Wright, Ph.D. (Licensed Clinical Psychologist)
Our curriculum is designed to provide a complete approach to hypnosis which enables you to immediately become a practicing Hypnotist working with weight loss, stop smoking and stress problems for both individuals and groups. Upon completion of the Level I and Level II (5-PATH®) hypnosis training, you will be able to help clients deal with fears and anxieties, self-confidence and esteem issues, sports performance, sales performance and most problems presented to Hypnotists.
In addition to learning the basics, you will learn the unique "Banyan Hypnosis Center" approach to hypnosis, 5-PATH® (Five Phase Advanced Transformational Hypnosis). This is a thorough multiphase approach which was designed to uncover and overcome subconscious issues. In this system you will utilize some of the most powerful hypnotic tools, including Direct Suggestion, Age Regression, Forgiveness Work and Parts Mediation Work, applied together in a systematic, reliable and highly effective process.
Excellent course, great presentation...
Mark Smalley, LSW (Licensed Social Worker)
I am very thankful for the opportunity to retake this course.... This time the course was 10 times more powerful for me...
Margarita Videnova-Lett (Certified Hypnotist)
This class has transformed me as a hypnotist...
Lynda Malerstein (Certified Hypnotist)
Special hypnosis training and experience will be available using 7th Path Self-Hypnosis®, a series of self hypnosis techniques designed to remove old blockages to success, before attempting to give yourself suggestions. This new approach has received highest praise from both students and clients. Note that 7th Path Self-Hypnosis® is a holistic Mind-Body-Spirit approach that far surpasses classical approaches to self hypnosis.
Your Hypnosis Certification includes:
5-PATH® Hypnosis training
7th-PATH Self-Hypnosis® teacher training
NGH certification
Hypnosis Certification
Course Schedule
NOTE: To learn more about each instructor and class offered you must select one of the above. Enrollment is done on the pages linked above.
Bonus Book

When you enroll in this course we will immediately send you a copy of the best- selling book by Calvin D. Banyan and Gerald F. Kein, Hypnosis & Hypnotherapy: Basic to Advanced Techniques for the Professional, so you can get a head start on the course.
"The Week of Power"

Advanced Hypnosis Training.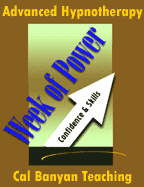 At the Banyan Hypnosis Center we now offer our systematic approach to hypnosis to you in our 7-Day Advanced Hypnosis Training, including our 5-PATH® and 7th Path Self-Hypnosis® systems and more. These systems have been developed after thousands of hours of hypnosis experience. The systems that you will learn are designed to provide you and your clients with consistently high levels of success.
As someone who originally qualified with distance-learning, I found the Week of Power awesome and very aptly-named. I thought I was doing pretty well before, but now I feel like I'm doing at least twice as well! I would recommend this course to anyone who really cares about becoming the best in their field, including 5-PATHERS who have already taken the training previously. We're not called One Per Cent-ers for nothing! Warmest Regards,
Niki Cassar, UK
Who Is This Course For?
This hypnosis training is for the hypnotist that wants to sharpen and advance his or her skills. It is of special interest if:
It has been a while since you have gone through a certification course.
You want to improve your confidence in using age regression and other powerful techniques.
You want to update your techniques and skills to include modern inductions.
You took a distance learning course and now would like to get some one-on-one time with a live instructor.
You want to add advanced self-hypnosis to your skill.
The Week of Power - Professionally Accredited Advanced Hypnosis Training
Course Schedule
The Week of Power - Professionally Accredited Advanced Hypnosis Certification with 5-PATH® and 7th Path Self-Hypnosis™
Details for the next Advanced Training Course:
Schedule of Upcoming Course Will Be Announced
If you would like help finding accommodations and/or airline flights ask for Maureen, she can help you. Contact Us

7th Path Self-Hypnosis® Teacher

5-PATH® Hypnotist

5-PATH® International Association of Hypnosis Professionals
Learn more about this program...
A class that enables the students to experience hypnosis first and then learn how to do self hypnosis to make important changes in their lives. Students will learn to hypnotize themselves in a fast, safe and effective manner. You'll learn how to give yourself productive hypnotic suggestions that can help you to lose weight, stop smoking, feel more relaxed or more self-confident, and much more. This class is offered about once a month and is about 7-8 hours long.
A beautiful, intriguing experience of the brain and mind. Makes one want to study and learn more.
Michael Vandall, MD
Very impressed.
Brenda Spriggs
Cal is great and informative and willing to answer any question.
Jane Swanson, BS
Just what I learned today will be of great benefit.... Thank you.
Walter Wicks
More information about this self hypnosis class.
5-PATH® and 7th Path Self-Hypnosis® Credentials Explained
In order to become a Certified Professional Hypnosis Instructor (CPHI) you must have a minimum amount of experience conducting hypnosis sessions, and using 5-PATH® as your primary modality, and undergo CPHI training. Additional information is available upon request.