About

Us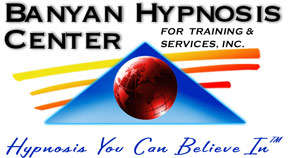 We, at the Banyan Hypnosis Center for Training & Services, Inc. strive to bring the latest, most reliable and effective hypnotic techniques to our community (i.e., 5-PATH® and 7th Path Self-Hypnosis®). If it starts with "hypno" we are probably engaged in bringing it to you (e.g., hypnosis, hypnotherapy, hypnoanalysis, hypnotic and HypnoBirthing®).
We were formally known as "The Hypnosis Center" but have changed to our new name the "Banyan Hypnosis Center for Training & Services, Inc."
We have two locations. We are conveniently located in Tustin, California in Orange County, and also in Singapore in the Goldhill Center.
Our decision to change names came about as a result of learning of other hypnosis providers using our former name to identify themselves. So in order to prevent confusion we have decided to change our name. Also, we feel that our new name better represents us because we are both a hypnosis service provider and a training center for those interested in learning hypnosis, hypnotherapy, self-hypnosis as well as some other related fields.
The company slogan "Hypnosis You Can Believe In!" is trademarked by the Banyan Hypnosis Center for Training & Services, Inc. and cannot be used by others.
Mission

Statement

It is the purpose and mission of the Banyan Hypnosis Center for Training & Services, Inc. to provide hypnosis services and education. We provide modern, professional, hypnosis and hypnotherapy services to the local area where we have an office. We strive to educate the community at large about the use of hypnosis and hypnotherapy.

It is our mission to train individuals and organizations in the professional use of hypnosis and hypnotherapy. This training is conducted locally, nationally and internationally.

As we provide services and training in our field we also strive to add to the knowledge of our field by developing advanced techniques that benefit the community and the professionals whom we train.

It is also our mission to produce a growing list of useful materials that will meet the goals of all of the above, while promoting the field of hypnosis, both as a tool and as a profession.
Nationally
Certified Hypnotherapists
Because of the backgrounds that each of our hypnotherapists bring to our organization, we provide hypnotherapy for most issues for which hypnotic treatments are appropriate. Some examples include, hypnotherapy for weight loss, stop smoking, relaxation, stress management and many medical issues that have a psychogenic or stress component (i.e., sexual issues, premature ejaculation, obsessive compulsive disorders, sleep problems such as insomnia, pain management, etc.).
California
Exempt

School

Our school for training hypnotherapists runs right along side our service center. This allows our students to study a highly successful full time hypnotherapy provider. Our school is really the ultimate in accelerated hypnotherapy training providers. Here are some reasons why:
State Registered School
NGH Certification
Small Classes
Supervised Practice
Learn Our Exclusive and Virtually Universal Approach To Hypnotherapy - 5-PATH®
Learn Our Exclusive Holistic Mind-Body-Spirit Approach To Self-Hypnosis
When you come to the our school, you are attending a nationally and internationally renowned training center. We have trained Hypnotherapists from across the country and as far away as Singapore, New Zealand, South Africa, and there are more locations coming up. For information about bringing our training to your area click here.
Click here to see photos of a class in action
It is Easy to Come to Our Center from these Southern Californian Cities
Alhambra
Alta Loma
Altadena
Anaheim Hills
Arcadia
Arlington
Arnold Heights
Arrowhead Springs
Artesia
Athens
Atwood
Azusa
Balboa
Baldwin Park
Bel Air
Bell
Bell Gardens
Bellflower
Beverly Hills
Bloomington
Boyle Heights
Bradbury
Brea
Brentwood
Bryn Mawr
Buena Park
Burbank
Calimesa
Canyon Crest Heights
Canyon Springs
Carson
Casa Blanca
Castellammare
Century City
Cerritos
Chilao
Chinatown
Chino
Chino Hills
City of Commerce
City of Industry
City Terrace
Claremont
Compton
Corona
Corona Del Mar
Costa Mesa
Covina
Creekside
Crestmore
Cudahy
Culver City
Cypress Stanton
Dana Point
Del Rosa
Devore
Downey
Duarte
Eagle Rock
East Highlands
East Los Angeles
Echo Park
El Cerrito
El Modena
El Monte
El Segundo
El Toro
Emerald Bay
Encino
Etiwanda
Florence
Fontana
Fountain Valley
Fullerton
Garden Grove
Gardena
Glen Avon
Glen Ivy Hot Springs
Glen Valley
Glendale
Glendora
Grand Terrace
Guasti
Hacienda Heights
Harbor City
Hawaiian Gardens
Hawthorne
Hermosa Beach
Hidden Springs
Highgrove
Highland
Highland Park
Hollywood
Home Gardens
Huntington Beach
Huntington Harbor
Huntington Park
Hyde Park
Inglewood
Irvine
Irwindale
Keenbrook
La Cañada Flintridge
La Crescenta
La Habra
La Habra Heights
La Mirada
La Palma
La Puente
La Sierra
La Sierra Heights
La Verne
Laguna Beach
Laguna Hills
Laguna Niguel
Lake Forest
Lakeview Terrace
Lakewood
Las Angeles
Lawndale
Leisure World
Lemon Heights
Loma Linda
Lomita
Long Beach
Los Alamitos
Los Feliz
Los Serranos
Lynwood
Lytle Creek
Manhattan Beach
Marina Del Rey
Maywood
Mentone
Midway City
Mira Loma
Mission Hills
Mission Viejo
Modjeska
Monrovia
Montclair
Montebello
Monterey Hills
Monterey Park
Montrose
Moreno Valley
Moreno Valley
Mount Baldy Village
Mount Waterman
Mount Wilson
Muscoy Colton
Newcomb Rance
Newport Beach
Norco
North Hollywood
North Long Beach
Norwalk
Oak Glen
Ocean ParkAnaheim
Olinda
Olive
Ontario
Orange
Orange Park Acres
Pacific Palisades
Pacoima
Palms
Palos Verdes Estates
Panorama City
Paramount
Park La Brea
Pasadena
Patton
Pedley
Pico Rivera
Placentia
Playa Del Rey
Pomona
Rancho Cucamonga
Rancho Palos Verdes
Rancho Santa Margarita
Redlands
Redondo Beach
Rialto
Riverside
Rolling Hills
Rosemead
Rossmoor
Rowland Heights
Rubidoux
San Antonio Heights
San Bernadino
San Clemenete
San Diego
San Dimas
San Fernando
San Gabriel
San Juan Capistrano
San Juan Hot Springs
San Marino
San Onofre
San Pedro
Santa Ana
Santa Fe Springs
Santa Monica
Seal Beach
Sepulveda
Sherman Oaks
Sierra Madre
Signal Hill
Silver Lake
Silverado
Sleepy Hollow
South El Monte
South Gate
South Laguna
South Pasadena
Studio City
Sun Valley
Sunland
Sunnymead
Sunnyslope
Sunset Beach
Surfside
Sylmar
Temple City
Temple City
Three Arch Bay
Torrance
Trabuco Canyon
Trabuco Oaks
Tujunga
Tustin
Univercity City
Upland
Van Nuys
Venice
Verdemont
Walnut
Watts
West Adams
West Covina
West Hollywood
West Los Angeles
Westchester
Westminster
Westwood
Whittier
Wilmington
Woodcrest
Yorba Linda
Yucaipa
Privacy

Policy

Our Commitment to Online Security

All online purchases are conducted via an encrypted secure server to ensure that your personal information is kept personal. Personal information regarding any online transactions are only handled by Banyan Hypnosis Center staff.

Client Confidentially is Required By Law

Client confidentiality is required by California State Law, and the Banyan Hypnosis Center keeps to the highest standards in this regard. Client records are only handled by our staff, which are all required to sign a confidentiality agreement. Your personal information may not be released to any outside agency or individual, unless you have given written permission.

However, there are certain limits to confidentiality, and as a result the Banyan Hypnosis Center may be required to release information to appropriate governmental authorities under certain circumstances, including a legal require for lease of information because of a subpoena or legal investigation, or when we receive information that suggests possible harm to others.

Personal Information Collected Online

The Banyan Hypnosis Center web site, www.HypnosisCenter.com may from time to time offer the ability for its visitors to sign up on a mailing list, or join discussion groups. We do not share this information with any other individual, company or agency.

Automated Computer Tracking Such as Cookies

Our web site is not set up to use cookies. We only use our site logs to gather data that indicates traffic coming to our site. This information is gathered in order to determine where our visitors are coming from so that we may better serve our visitors and promote the site.

A cookie is a record that your computer keeps on your browser. Because our site does not use cookies to identify you, you may use our web site with your browser set to reject cookies.
US Location:

Banyan Hypnosis Center For Training & Services, Inc.

1431 Warner Ave. Suite E
Tustin, CA 92780

Telephone: 714-258-8380 or
800-965-3390
FAX: 714-258-8374

Click here for more information about location and directions to our office.

Singapore Location:

Banyan Hypnosis Center for Training & Services, Inc.
C/O Delta 3

199-B Thomson Road
Goldhill Shopping Centre
Singapore, 307630

Telephone: 65 6250-6601

Contact Person: Linda Damara
Mobile Phone: 90305097
FAX: 65 6250-0581


Learn About Our Namesake