Free Hypnosis

Scripts and Hypnosis Patter Scripts

These scripts are provided for professional hypnotists to use in their practice. The are copyrighted and may not be reproduced.

Some of these scripts may be appropriately used by any well trained hypnotist. Others require advanced hypnosis training in 5-PATH®.

Download Free Samples of our Audio, Video, and Online Supervision Programs!
General Hypnosis Scripts:

Hypnosis Scripts For 5-PATH® Hypnotists and Others
Scripts For Use By 5-PATH® and 7th Path Self-Hypnosis®
Trained Hypnotists Only
Weight Loss Script: Over Eating Rut Patter

This script was designed to be used with The Secret Language of Feelings, so that the behavior of over eating is replaced with a more satisfying response. This script is perfect for the emotional eater. This script is easily altered to work for many different emotional responses, such as nail biting and tobacco use.

Stop Smoking Script

This script was designed to free the client from erroneous beliefs about smoking. It also programs the client to use alternative behaviors that are selected in advance. This script was designed to be used for the individual who does not want to gain weight as a result of his or her smoking cessation.

Sleep Disturbance Script (Snoring, etc)

This script was designed to use along with age regression. It reframes the meaning that the client has unconsciously associated the the "disturbing" behavior, i.e., snoring and moving in bed.
Want more? Go to www.Hypnosis.org.
More Free Hypnosis Scripts at our Hypnosis Superstore.
More professional scripts from Cal Banyan.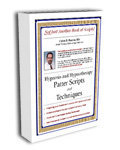 Free Hypnosis Scripts For Use By Professional Hypnotists Only
All scripts under copyrighted. All rights reserved. Do not publish without permission. These scripts may be used as is in a professional practice. The author does not assume responsibility for the use of these scripts. They are for educational purposes. Such scripts should only be used by trained professionals working legally in the area where they provide services.