7th Path®

Booklet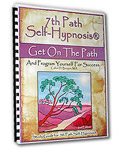 $8.50
Shipping Weight: 0.5 lbs.
NOTE: This booklet is for CERTIFIED 7th Path Teachers ONLY
This booklet does not teach you 7th Path® and is for 7th Path® teachers only. This booklet is required for all students of 7th Path® and supplied by a 7th Path® teacher as a companion piece to the class.
To learn 7th Path Self-Hypnosis® you need the 7th Path Self-Hypnosis® CD Set.
* In order to purchase this booklet, you must be a Certified 7th Path Self Hypnosis® Teacher