Hypnosis and Hypnotherapy
for Children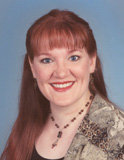 Hypnosis Training by Kathleen Skott-Myhre, MA, CH
Mrs. Skott-Myhre has a Masters Degree in Counseling Psychology and is a National Guild of Hypnotists, Certified Hypnotist.
Professional Hypnosis Training on this Set of Videos Comes with Scripts
Important Information About International Orders International Video are not guaranteed to work on international machines or multi-regional formats. International Video ordered products are NOT returnable or refundable.

Click to Read Text Version of this Video
What you get

in this video package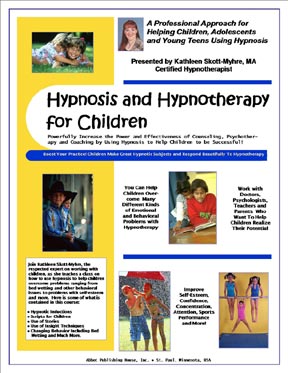 Now you can successfully help children. Expand your practice by helping children. Children are easier to hypnotize than adults.
Ms. Skott-Myhre will teach you:
When to Get a Doctor's Referral to Work with Children
How to Prepare Children for Hypnosis
How to Induce Hypnosis in Children
How to Give Children Hypnotic Suggestions
How to Use 5-PATH® with Children
What Parents Need to Know to Make Hypnosis Work
What Scripts to Use for Specific Issues for Children
Using Post-Hypnotic Suggestions for Children
Letting Children Communicate through Pictures
Number of Session and How Long they Should Be
Over Two Hours of Instruction.
Two Videos
Scripts
Recommended Reading
Information about 5-PATH®
There's
more!
On this two video hypnosis training set Kathleen Skott-Myhre touches upon all of the following topics and go into more depth on the essential points of working with children.
The Developmental Phases that Children Go Through
Age Appropriate Language for the Different Stages
Using Stories and Fantasy to Give Children Suggestions
Using Stories to Induce Trance and Make Suggestions
Using Rehearsal Fantasy for Change
Teaching Parents to Use Suggestion
How to Prepare Children for Hypnosis
How to Conduct the Pre-Hypnosis Interview
Doing Ego Enhancing Hypnosis
Doing Symptom Oriented Hypnosis
Doing Dynamic Insight Oriented Hypnosis
When to Use 5-PATH® with Children
Hypnotic Inductions for Children
When to Get a Doctors' Referral to Work with Children
Teaching Kids about Hypnosis and Relaxation
Recommended Books and Videos about Working with Children
Using Hypnosis with Children Diagnosed with ADD and ADHD
How to Interact and Communicate with Children (the Words and Tone)
Yes You Can Work with Some Autistic Children (Verbal)
Helping Children Focus, Concentrate and Relax
Helping Children to Overcome Shyness and Social Anxiety
Patter Scripts for Hypnotizing Children
Use of Praise with Kids
Teaching Children to Relax Themselves Using Self-Hypnosis
Showing Children that they Can Succeed with Hypnosis
Using a Transitional Object So Success Can Go Home with Them
Using Repetition to Strengthen Hypnotic Suggestion with Children
Using Post-Hypnotic Suggestion with Children
Scripts for Concentration (ADD/ADHD), Bed Wetting, and More
Using Drawing Pictures in the Pre-Hypnosis Interview
How Many Session and How Long the Sessions Should Be
Hypnotic Age Regression with Children (Fears, Phobias and More)
Using Hypnotic Age Progression (Rehearsing for Success)
Working with Anger and Behavioral Issues
When Should the Parent Go through Hypnosis Also
Helping Children to have Insight
Better Defend Themselves Emotionally
Explaining Anger to Children
Working with Children who have Obsessive-Compulsive Disorder (OCD)
How to Create and Tell Hypnotic Stories to Children
How Much Time to Spend Telling the Stories
The Best Hypnotic Story Voice
Example of a Hypnotic Story, The Frog Story for Persistence