5-PATH®

Video Hypnosis Training

Multiple Set and Certification Discount Information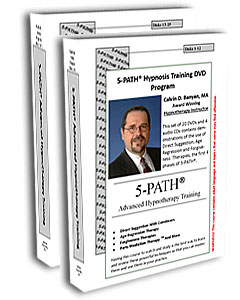 If you have any questions about this discount program call our office.
This program was designed for hypnotherapists who have undergone basic hypnosis and hypnotherapy training. It is not a "How to Hypnotize Course." This course covers advanced hypnotherapy techniques, and as such is in demand by individuals who want to add 5-PATH® to their hypnotherapeutic skills.
Because we are receiving requests from several hypnosis organizations who want to train all of their hypnotherapists in 5-PATH® at a discount.
Call our office or email us for discounts for 4 sets or more.
714-258-8380 or 800-965-3390
Contact us by E-Mail
NOTE: This discount is not available to any school which intends to use this training program in their classes, to teach any portion of any class without prior written permission from Abbot Publishing House, Inc. No school may use these videotape training programs published by Abbot Publishing House, Inc. without prior written permission.
Save on Our 5-PATH® DVD Training Program when you order multiple sets