Stop! Important Notice!
This Page Has Been Completely Updated
And Will Continue To Be Updated
Here's Why...
Please Read: The popularity of this page and our Hypnosis Business Start Up Pack just keeps on growing and that is why we are making some changes to this page and will continue to do so.
This Page
Will Continue To Change

In Order To Serve You Better

The Challenge and the Solution Are
Challenge = Every Educational Book, CD, DVD, etc is Out Dated As Soon As It Is Published.

Solution = Provide Expanded Online Information To Those Who Purchased the Educational Materials.
So, this page has changed and will continue to change. We may even create a whole new website in the future to contain this important information. When that happens, anyone using the old link to this page will be redirected to the new website.
Expanded Material

: New Information, More Resources, and Expanded Material

Get Over 250 Hypnosis & Hypnotherapy
Training Videos for Free at www.CalBanyan.com


Go to www.calbanyan.com - It Is an Amazing Resource

With Hundreds of Free Hypnosis Training Videos You Can Watch Now!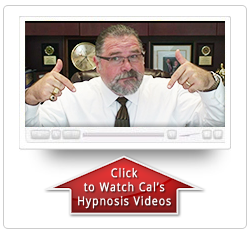 It is essential for those who want to develop a successful, money making hypnosis center. The model shows you how to build a full service hypnosis center by indicating what needs to be done step by step in order to be successful. It also suggests a particular flow, starting with how to begin and then how to mature your business into a flourishing mature hypnosis center.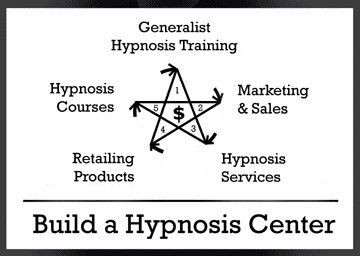 Using this model will not only provide you with a step by step guide to building your hypnosis center but also suggests an interactive synthesis in which each step begins to reinforce and complement the other aspects of the business.
Brief History

of our Center's Growth and Development

It was March of 1996 when I graduated from the NGH Hypnotherapy Certification program and I was on my way. I decided that I wanted to have a center, rather than a practice consisting of just me. So my wife Maureen and I started looking for a place to open up shop. We located a 2,000 sq. ft. store front in a strip mall in a suburb of Minneapolis/St. Paul, Minnesota. It was a big box with four walls. This meant that we could design our center from scratch. Our first design consisted of a reception area, a video viewing area, two hypnotherapy offices and an office for Maureen who would be the General Manager.

I then "went to school" on a variety of hypnotherapy and business materials, because I was new to both. In the beginning, I mostly studied the videos of Jerry Kein, two books by Roy Hunter, and a variety of materials from Don Mottin.

About three months later, we opened our doors and I began seeing my first clients. We started off charging $65.00 per session. At that time I had two jobs, Hypnotherapist and Marketer! Within about 6 months we had added a second hypnotherapist.

During that time I developed the beginnings of what we now call 5-PATH®. The purpose of 5-PATH® was to develop a high quality process that would get great results for our clients, have a wide variety of applications, be quick to learn and teach, while being easy to supervise. This approach is the mainstay of our center's work. It is the one hypnotherapy process that we use to help our clients. Later we added 7th Path Self-Hypnosis® a special mind-body-spirit approach to doing self-hypnosis.

Over the next four years, we kept adding hypnotherapists until we usually had four on staff. Then for our 5th Year's anniversary we expanded into the space next door to us, expanding our facility's size to 4,000 sq. ft. With the new space, we were able convert the General Manager's office into another hypnotherapy office, which now allows us to have up to 6 hypnotherapists working at any one time (two sharing a single office).

In the new space, I set up a new business office for myself and Maureen, while having room to set up a computer center, where we can create products, a production area where we can manufacture the products, as well as additional area for other support staff to work.

This allowed us to round out our center by becoming a Minnesota State Licensed School in 2000, and have a very nice classroom where we conduct our training programs and produce audio and video programs.

At this time we are planning on moving out of the mall and into our own facility, which will be slightly larger and located closer to a freeway, making it easier for clients to find us.

During our first few years of operation we made a lot of mistakes, that have cost us time and money. Boy, if we only knew then what we know now. The intent of this article is to help you to avoid making those mistakes and to make better choices that will help you to develop a profitable hypnosis center much more quickly than we did.

Here's to your success,
Cal Banyan, MA, BCH, CI, FNGH
The Banyan Star Hypnosis Center Business Model


(The Details)

What exactly is a "Hypnosis Center" as opposed to being a "Hypnosis Office?" A center of any kind, be it a sports center, a medical center, or business center, is a place where individuals work on something together. So, a hypnosis center, is a place where hypnotherapists work together, and provide a number of services. At our center, we provide hypnosis and hypnotherapy services, training, and produce educational products. A hypnosis office may or may not have more than one hypnotherapist working there, and one or more services may be provided to clients. In any case, a one person office, does not a center make.
The 5 Points that Make our Star of Success
Become Trained as a Generalist

When you are building a center, and you want to have more than a one-man-show, then you need to be able to work with and be successful with a wide variety of issues. It is more difficult to pay the rent and make a profit if you start off as a specialist. Being a specialist will be the most difficult way to build a center with several hypnotherapists working for you. But if you are able to work with all of the main issues, such as, stop smoking, weight loss, overcoming fears, and so on, then you will be able to serve a greater number of clients right away. This is the key to getting your hypnosis center off to a good start. Later on, if you want to specialize or have specialists work for you that handle such issues as sports improvement, pain management and working with children, that will work fine, especially if these hypnotherapists also have a generalist background so that they can continue to serve clients that don't fit into their specialty. 5-PATH® Training is a great way to accomplish this if your current training is not providing you with the ability to do this.

Generalist training provides a foundation that enables you to work on a wide range of issues.

You must have great training be able to be successful with weight loss and stop smoking and other popular issues that bring clients into your door.

Other popular issues:

Overcoming fears.

Overcoming other negative habits, i.e., nail biting, etc.

Self-Improvement, i.e., motivation, sales performance, sports improvement and relationship issues.

Marketing & Sales

Once you have a good generalist foundation in hypnosis and hypnotherapy, it is time to get serious about building your business. You can be the best hypnotherapist in the world and if you don't have any clients, then you won't do any one any good, including yourself and your would-be hypnosis center. So it is time to get busy doing some marketing that will provide you and then your employee/hypnotherapists lots of clients.

Below you will find some information about what has worked for us, but let it be said up front that your best marketing plan may vary according to your area. So, the only way that you will know what is working the best for you is to track all of your marketing. We ask everyone who walks through the door or gives us a call, "How did you year about us?" We do this so that we know which marketing efforts are working and what is not. So far we have found that for us our best marketing investments are: our website, our yellow pages advertisement, and referrals from others, including our clients, other hypnotherapists and other professionals such as doctors and psychologists.

For more information on this important topic, go to our web site and read my article, Three "Most Important" Tips on Marketing Your Hypnosis Practice. There you will find more information on this topic and a recommendation for the best book I have found on writing great yellow pages advertising.

Before I go into the marketing any further, let me tell you that all of that time, effort and money will amount to nothing if you don't have excellent telephone skills, and in this case I mean sales skills. We know what we are talking about, with the techniques we use, we book between 30 and 35 new clients each month (and we have booked as many as 50 new clients in some months)! This is why I recommend Maureen's new Business Start Up Pack with Telephone Answering Strategies. It is one of the best investments you can make in your business. It includes a talk she does for our students on how to book appointments (on CD), as well as containing a wealth of information about how to set up and run a professional hypnosis office (all forms and procedures on CD in Microsoft Word format). Call us for the latest ordering information on this new version of this educational program at 469-969-2176 or 800-965-3390.

Yellow Pages Advertising

We have found that without a doubt, the yellow pages advertisement that we run works! In fact, if it wasn't for our yellow pages advertisement along with our ability to turn those calls into appointments, then there would not be a Banyan Hypnosis Center!

Here are some tips to take into consideration if you want to build a center:

Do not settle for a listing. If there are many other hypnotherapists in the directory, then you must invest in a display ad, and it needs to be one of the largest in your section. The large ads are placed at the front of the section and so are most often called first by potential clients. Combine this with good telephone answering skills and you should have more clients than any one hypnotherapist could handle! On the other hand, if there are only a few hypnotherapists listed in your area, say maybe 3 to 4, then you may not need to have the largest, only one that is the same size as the largest.

Use a photo to catch the eye of the potential client. However this need not be your photo, after all some of us are more photogenic than others, and besides you are not selling yourself, but your center and you want the callers to be willing to see someone else besides you. You could use photos of all of your hypnotherapists but you chance having it go out of date with a change of staff.

List your services in the ad, or at least your main services! When deciding which hypnotherapist she should call, the potential client is more inclined to call someone who lists the service that she wants.

Do not put the name of your center at the top of the advertisement! That will not catch anyone's eye unless they were looking specifically for your office, and in that case they will probably find you any way. Instead, make an irresistible statement that gives you credibility and is interesting.

For more information on using the Yellow Pages, I recommend the best book I have ever seen on the subject, Using Yellow Pages Advertising to Ethically "Steal" from Your competition, by Alan Saltz.

Your Website

Along with your yellow pages advertisement having a great website can be very important. Together these two forms of marketing will get you lots of first time clients that can then send you referrals in the future.

Here are a few suggestions to take into consideration when you set out to set up your web site.

Build it Yourself If you have the time (and when you are just getting started you usually do) I suggest that you consider building your own web site if you have minimum computer skills such as the ability to browse the Internet and use a word processor. If you have those two skills then you are about 80% of the way there! That is what I did. I bought a program called Microsoft FrontPage and with a little study and practice, I had a webpage up in a day or two, which then over time became one of the largest hypnosis websites in the world!

Get Your Own Domain Name Don't use a hosting service that sets your website up as part of their system, as is the case with AOL. Contact a hosting service and most of them can talk you through the process of getting your own domain name or will set it up for you for about $25.00 to $50.00. We use a Host2Host to host most of our web sites. I think they provide hosting for about five of our websites and only charge us $50.00 a month, or even less if you have a very simple website. We now provide hosting services. So if you can't find another hosting service that you like, or trust, you can get some great deals through us. Check out our offering at, www.BanyanInternetServices.com. You will find out prices much better than most.

Make Your Site Believable Here are some quick hints about how your website should look if you want your web visitors to actually consider giving you a call to book an appointment:

Put your photo on the website

If you have a nice office put some photos on your site.

List your credentials (relevant degrees, certifications and curriculum vitae)

List any related awards that you have received

Write some short articles about hypnosis and hypnotherapy, at least have a "Frequently Asked Questions (FAQ)" page.

Get on the Search Engines Here is a secret to getting on the search engines, you don't need to pay someone to submit your website to search engines! Just exchange links with a web site that is already listed and the web spider will find you. Here are some other hints that will lead to great placement on those search engines such as Google and Yahoo!

Learn about meta tags for titles, keywords and description.

Use meta tags to list a different title for each web page and description for each page.

Write a description for each of the graphics on your page that includes the words "hypnosis" or "hypnotherapy.".

Exchange links with other hypnosis web sites that are well placed on the search engines. These are called reciprocal links. Google likes web sites that have lots of web pages linking to them.

Make sure that you use the name of your town in the title, and description meta tags, as well as in the body of the text on your web pages.

Content Drives the Web Remember to fill your web pages with great content. You should write about your services and policies. Write articles about hypnosis and hypnotherapy. Write out some good, meaning simple, directions to your office.

Get Referrals from Your Clients

Once you have clients coming in, then you have had the opportunity to provide them with a great service, and from that comes referrals. Those referrals can be increased by giving your client brochures to take home with them (and give out to others), and certificates when appropriate, for example we give out a Stop Smoking certificate to every client when she completes our smoking cessation program. We also do this for our HypnoBirthing® Program.

Other Marketing Techniques

In addition to the big three that we listed above, you may also want to do some of the following:

Public Talks

Men's and Women's Groups

High Schools and Colleges

Anywhere and Everywhere

Television and Radio Hypnosis is very interesting to just about everyone! This made it very easy for me to get on both television and the radio. Thanks to my yellow pages advertising, I receive calls from the media asking me if I would be interested in being on their show! I say "Yes!" to them all and as a result I have been on television and radio many times and even once in Singapore! Then once you have been on the show, then from time to time you can "pitch" the producer with an interesting idea. For example, it was easy to get on the radio when I pitched the producer with the idea of me being on the show for World Hypnotism Day! My success was in part because I was a good guest on the show before. Now, they want me to be a regular guest and you can bet that I will say "Yes!" to that

Hypnosis Services

As I mentioned in number 1, you must have a good generalist training in hypnosis if you want to build a center. Now that you have that (and if you don't, I suggest that you consider our Advanced Hypnotherapy Course with 5-PATH® and 7th Path Self-Hpnosis®, you will come out of the class with the information and skills that you need to handle a broad range of issues).

First, there Will Be You

When you first start to build your center, you will most likely be the hardest working hypnotherapist AND the only hypnotherapist. But you will want to quickly move on to adding more hypnotherapists. I'll tell you just when you will want to do that.

Then there Will Be Two Hypnotherapists, and More

One hypnotherapist does not a hypnotherapy center make! You can call the one hypnotherapist office a center if you wish, but I think of a center as a place where professionals come to work together. When should you think about adding another hypnotherapist? When you are about 70% to 80% booked. This is because as your bookings increase, your time that can be spent marketing and building your center begins to approach nothing! This means that you will stagnate and all growth will stop. When I reached this level, I immediately added another hypnotherapist and gave her most of my clients, and then spent the "free time" to go out and build my practice. Now, we average about five to six hypnotherapists working at our center at any one time.

Consider Running an Internship Program

Recently, we started our Internship Program. This had been requested by our graduates for a long time, but being busy with so many projects, it had to be put off until only a few months ago. This has turned out great! Our Internship Program is four months long which enables our graduates to get lots of experience so that they can feel confident in opening their own center (which we hope will also have Internship Programs). The Internship Program is a win-win situation for both us and the interns. Because of the approach that we use, 5-PATH®, our graduates from our NGH Hypnotherapy Certification Courses can get up to speed very quickly and provide an excellent service, which we need in order for our center to provide top notch service to the community that we serve. This leaves us in a great position, and because we are providing our interns with ongoing supervision and training during their internships, they are willing to work for a lower rate than our other more experienced hypnotherapist, making us more profitable than if we did not have the Internship Program.

Employees, Not Partners and Not Independent Contractors

After we opened our center and started to grow we had to add staff over time including: hypnotherapists, receptionists, office assistants, production assistant and even an I.T. person! The first decision was "How are we going to add hypnotherapists?" Did we want them to be independent contractors? Did we want them to become partners? None of the above, we wanted them to be employees. Employees have a greater sense of belonging then do independent contractors. They can be more easily held to the standards that you set up for your practice. And, they provide a better foundation for your business by being better team players. Even our interns are hired for the four months that they work at our center, exactly the same way as any new employee. We didn't want partners because that would give away too much value and reduce our control over what we did.

Here are some things to keep in mind:

Hypnotherapist and interns should be paid a percentage of the rate that clients pay for services.

Reception people and anyone who is paid to answer the telephone should get paid hourly plus a small commission for making appointments. This guarantees that they want to make appointments and to get more skilled at it over time.

All other staff such as production people and those who do shipping should be paid hourly.

You get paid last! So don't over pay your hypnotherapists and hourly people or there will be nothing left over for you. You may have to go through several employees before you get good people who can work at a wage that you can afford to pay them.

Retailing Hypnosis Products

Now that you have great generalist hypnosis training, some good marketing going and bringing your clients in at a steady rate, some well trained staff to handle those clients and provide the hypnosis services, it is time to start building your store! That is right, it is time to start thinking about providing products. This will provide an excellent balance to your center, providing a constant cash flow when done right.

What Products to should you sell?

Start off by retailing products that others have to offer. This is the easiest way. Visit other hypnosis web sites and see what they are offering.

There you will find

Hypnosis books (Amazon.com will let you sell their books if you have a web site)

Hypnosis tapes for particular issues

Hypnosis training programs on tape, CDs and DVD

A very good place to start when considering selling other people's products is our affiliate program. We will work with you to help you make automatic profits from your website and email by promoting our high quality training programs and training materials. Click here for more information or call our office today.

Then produce your own. It is not that difficult. Because of your training you know what to say, you only need to record it and then duplicate it! I started off with, and still use a Radio Shack tape recorder to record my talks and programs for individual issues such as my Stop Smoking tapes. When I first started, I just used one of those double cassette tape decks and recorded them in real time. Then I found one that would record double time. Finally, I bought a cassette duplicator by Telex called the Copyette EH, which can make a copy of a 60 minute tape in about 2 minutes! If you are good with computers, you can also copy those programs onto CD.

When we produce tapes for individual issues such as sleep problems, and the other issues that I list below, I like to record my pre-talk on Side A which can be titled, Introduction to Hypnosis and Side B for the actual recorded session.

Here are some things that you can record almost right away and start retailing:

Your own stop smoking or weight loss tapes

Other topics such as relaxation or stress management tapes

Record a class on hypnosis

Who will want to buy your products?

Just about everyone is interested in hypnosis and are potential buyers, but at first you will find that it is easiest to retail to your client and visitors to your web site. Then after you begin, conducting training's that your students will also be interested in getting your hypnosis sessions on tape and related training products.

Here are some of the training programs that we offer our students:

Here are some of the books that we offer the public and our students:

Become a Teacher and Instructor

Becoming a teacher/trainer/instructor, and being able to teach a range of courses is an important part of any true "Hypnosis Center." Having such programs will make your practice more profitable in more ways than one. First, and most obviously, you will make an income from the classes you teach when students take your courses. Secondly, your students become customers from the different products that you retail. Thirdly, your students may become clients for your center as well.

Here are some courses you may want to teach at your center:

Self-Hypnosis Classes are a great place to start because so many people have tried and failed to learn self-hypnosis from a book. You can help them out by showing them exactly how to do it so that they can benefit in so many ways. Plus some of these people will want to work with you directly in private sessions, and some will want to buy your products, or both.

Hypnotherapy Certification Courses can be taught when you have the experience and proper training. We now offer our graduates the opportunity to become trained as Certified Professional Hypnotherapy Instructors (CPHI). Contact us if you think you may be interested in this option. Graduates from this program will be able to certify their students under the National Guild of Hypnotists, and offer all of the benefits that we offer our graduates! This can provide an excellent income stream for your practice while providing a much needed service.

Advanced Hypnotherapy Certification can be taught just like the Hypnotherapy Certification Course discussed above, with all the same benefits to you and your students. Contact us if you would like more information about these options by email Maureen@HypnosisCenter.com or by telephone, 469-969-2176 or 800-965-3390.

There are many special Topics that you can teach. Here are just a few, Hypnosis for Pain Management, Simple Hypnosis for the Hobbyist, Hypnosis for Natural Child Birth, Hypnosis for Stress Management, Hypnosis for Sports Improvement, and so on.
I hope you have enjoyed this topic! I know that if you implement what I have outlined here, it can help you to build a hypnosis practice of any kind, be it a huge hypnotherapy center in a major city, or a small private practice in a small town. Now go for it!
If you live in our area, we hope you will come out some time and visit our center, and see a working model center using the Star Model for Building a Successful Hypnosis Center. If you are a member of the NGH, you are invited to attend one of the meetings which are hosted at our center every month.