Banyan Hypnosis Center For Training & Service's
Online Communities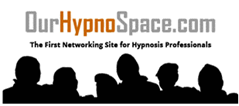 OurHypnoSpace.com is a friendly and professional place for hypnosis professionals around the world. Easily join or create your own groups. It already has many successful groups operating on the site, including groups for marketing your practice, National Guild of Hypnotists Board Certification, free hypnosis training, and more.
Talk About
Hypnosis

Would like to find an enthusiastic group of individuals talking about hypnosis, self-hypnosis? Remain informed about what is happening in the world of hypnosis. You will also be informed about any new products and services available through the Banyan Hypnosis Center. Try it out. You can easily unsubscribe at any time.
Marketing

Hypnosis

This group is THE place to learn about how to advertise and market your hypnosis services. The goal of this group it to share ideas that will help us to build our practices, with the focus being on working smarter and not harder, and using less money than more money to be successful.
Hypnosis with
Spirit

Would like to find an informed group of individuals talking about some of the most way out topics in the field of hypnosis? Then you will love our Hypnosis with Spirit group on Yahoo. Some of the topics covered by the members of this group include, past life regression, spirit releasement therapy, spiritual self-hypnosis, hypnosis vs. meditation, UltraHeight hypnosis and UltraDepth® hypnosis. Click on the button on the left and check it out for yourself.
Speedy

Hypnotic Inductions

This group is dedicated to discussing hypnotic inductions that work fast, real fast. The goal here is to educate hypnotists around the world, that the day of doing progresive relaxation inductions is over. Modern hypnotists and hypnotists are learning that deep levels of hypnosis can be induced in as little as a couple of minutes, and if you know the right techniques they can be induced instantly.
The following groups are only available to graduates of our 5-PATH® and 7th-PATH Self-Hypnosis® courses
If you are a graduate of either of these programs and are interested in joining, please contact us.
Hypnotists
5-PATH®

and

7th-PATH Self-Hypnosis®

Ongoing support for our 5-PATH® and 7th-PATH Self-Hypnosis® hypnotists. Get answers to questions regarding problematic clients, exchange information and tips, and get the latest announcements from the Banyan Hypnosis Center.
7th-PATH

Self-Hypnosis®

Share you experiences and revelations from your journeys on the PATH and how it has helped you in your everyday life.