Hypnosis Training
Scholarships
Scholarships for Pros Helping American War Veterans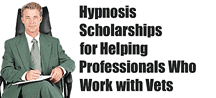 Hypnosis helps, and the Banyan Hypnosis Center for Training & Services, Inc., is offering scholarships to professionals who work with war veterans and their families.
These have been very difficult times for the men and women who are serving in our armed forces, especially for those who have experienced the stresses of war. And of course, this stress also affects their families as well. So, we have decided that we want to help, and this is what we would like to do. We would like to provide scholarships for our hypnosis certification courses to some of those who are in the helping professions, such as doctors, nurses, counselors, social workers and psychologists who work directly with these brave men, women and their families.
Selection for these scholarships will be done on a case-by-case basis. Starting with the the Banyan Hypnosis Center will enroll up to two such helping professionals in each class.
The size of the scholarship that the person or institution can expect to receive will cover at least 50% off the regular tuition cost, and can go as high as 100% for those who work full time, directly with Armed Forces Personnel, veterans of any war in which the American military has served, and of course their families. Highest preferences will be given to those who will be able to use their hypnosis as part of the service that they provide the vets and their families.
In this way, we hope to bring the rapid relief that advanced hypnotic techniques can provide to those who have served our country and made us all so proud. We hope this idea will grow and spread. We hope to have helping professionals from a VA Center doing this kind of work on a regular basis. It would truly benefit those who we owe so much to.
The scholarships will be applied to the full 100-plus hour courses given at the Banyan Hypnosis Center for Training & Services, Inc. in Plano, Texas.
Upon graduation there will be ongoing support to help to ensure that these valuable techniques are being used in the most effective way to help the vets and their families.
If you know someone who would qualify for this scholarship program please help us to get the word out and tell them about this.
For more information or to apply for this scholarship program call us at 469-969-2176 or 800-965-3390. We will send out an application for the scholarship program, and information ont he course immediately.