Reviews of,
Hypnosis and Hypnotherapy

: Basic To Advanced Techniques for the Professional, Calvin D. Banyan and Gerald F. Kein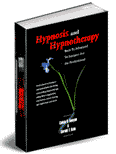 User Friendly, December 15, 2001
Reviewer: Capt. Dr. John S. Henley. Ph.D. from UK / Malaysia
Concise, practical and user friendly. Cutting edge, "state of the art" approach that challenges the established Hypnotist community to emulate. This book is a must for the serious practitioner.
A Treasury of Helpful Information, September 20, 2001
Reviewer: Samadhi Ishaya Wright, PhD from Lincoln, NE United States
This book truly is packed with a multitude of tips, tricks, and techniques for the practicing hypnotherapist! As a practicing PhD psychologist, I have never encountered a book so easy to read, yet so filled with incredible insights into the workings of the mind and the art of hypnotherapy. In a refreshing, conversational tone, Banyan clearly explains each step of his approach, guiding the reader gently through the process, almost guaranteeing success! I have no doubt but that this brilliantly written work will become a classic in the field!
A Wonderful Hypnotherapy Bible, September 15, 2001
Reviewer: Sonna Johnson from Goldfield, IA USA
I found "Hypnosis and Hypnotherapy" to be one of the best resource books for my practice. It is very practical, easy to use and has a wealth of information and suggestions by two masters in Hypnotherapy. Mr. Banyan has given us, the reader and hypnotist, an easy to use, very understandable text book, and the additional bonus tips are great. You feel like your back in class with Cal gently guiding you to the very best, successful Hypnotherapy session you can give a client. Thanks Cal, the book is great! Sonna Johnson
Practical, Practical, Practical, September 14, 2001
Reviewer: Don F. Johnson, Ph.D. from St. Paul, MN United States
This text is a practical resource for hypnotherapists who want answers and solutions. Step by step through the process of hypnosis and hypnotherapy, Banyan gives clear guidelines and suggestions that really work. Whatever one's previous training may be, this book will add to and enhance one's work. Especially helpful are the suggestions for conducting regression work for healing past pain. It would probably take about 10 to 15 books to capture all that Banyan has condensed into this one useful reference. I do use it regularly.
Hypnosis and Hypnotherapy, December 20, 2001
Reviewer: Janice East from Cape Town, W. Cape South Africa
Often the best advice seems too simple to follow and we miss it. This book has it all. Read the book once and then go back over it in detail.. Cal does a great job...he misses nothing out.
You want to use age regression in your practice ? read this book, you want to get a good depth of hypnosis with every client ? read this book. What I really liked is that the author doesn't presume that anything is too basic to put in print...and even when we do know, habits of omission can form...When things go wrong in anything we often hear "GO BACK TO BASICS " This book has it all as advertised " Basic to advanced Techniques for the professional"
Hypnosis and Hypnotherapy for the Professional, December 15, 2001
Reviewer: Michael R. Weir from Pittsburgh, PA USA
If you are a seasoned professional, or just starting into the profession this book is a must have! Both members of the National Guild of Hypnotists, the authors are two of the most highly respected instructors in our profession. I was very pleased to see that they did not hold back on sharing knowledge that has made them very successful. The book is so well written even a beginner could understand the advanced concepts in the end of the book. The numbering of topics throughout the book lends itself to easy reference of subjects covered. From setting up your office for success, to working with client's doing advanced age regression, Affect Bridge, Informed Child Technique, finding and working through ISE and SSE's and more, this book has it all! This book also has great information on instant inductions. Its unfortunate that there are still hypnotists that think they need to drone on and on making their clients suffer through a 30 min induction. There are still a few (I'm hoping less than 5% for the clients sake) of professionals who use only a 30 min progressive relaxation to do an induction. To those I say "It is time to stop watching Black and White TV! Color TV was born may years ago, as was the rapid induction." Dave Elman's book titled "Hypnotherapy" copyright 1964 brought the rapid induction into the mainstream of Hypnotherapy. Mr. Elman had taught thousands of doctors and hypnotists his methods of inductions. It is slight variations of these, and the newer instant inductions that are the most reliable inductions we now have. How powerful are they? There is actually covert tests build into the inductions to test for level of trance. This test includes testing for Somnambulism. In the back of Hypnosis and Hypnotherapy there is (in my opinion) the best version of this very powerful induction. I have a large hypnosis library, and if I could only keep one book "Hypnosis and Hypnotherapy Basic To Advanced Techniques for the Professional" would be it!
An Informative handbook -a must for a personal library, December 14, 2001
Reviewer: Bathsheba from A Canadian in Singapore
This book is well written. This book is not a novel, or thriller. It is for those who are interested in this age old science of hypnosis. The author's Simplicity of the language makes it easier for younger readers of diverse ethnic cultures to grasp concepts & understand the subject in depth, as well as for many whose first language is NOT ENGLISH.
This book gives insights to students, professionals alike, as well as to many who may feel inclined to take up the study of hypnosis/hypnotheraphy for whatever reason. I look forward to reading more books written by this author.
The author does not mince words, maybe repetitive, but I personally feel that is because the Author is driving a point 'home'!
The "How To" for professionals, December 14, 2001
Reviewer: Jason Richard from Austin, MN United States
For those who have ever met the author, they will recognize the same wonderful conversational tone in his writing, which is what makes this book so easy to read and useful. This truly is a book which will quickly transform a beginner into a seemingly seasoned professional. For those who have not been doing the life changing therapy discussed in the book (such as age regression), this book will give them what they need to do the work with confidence.
BUY THIS BOOK!, December 14, 2001
Reviewer: Anne Shuman from Wilmington, DE
Hypnosis and Hypnotherapy is a concise, easy to use volume of practical information. Excellent organization and readability make it my new favorite reference! It's as though Calvin Banyan took all of the tools and advice that made him successful and handed it to the reader on a silver platter, ready to use. Helpful for both the novice and veteran hypnotist/hypnotherapist, this book is a must have.
Good, Simple and Direct, December 14, 2001
Reviewer: Keith To from Hong Kong
It is one of the best hypnotherapy book I had ever read. It is simple and direct. I can read thru' it in 1 to 2 hours but I can use the techniques for life.
I particularly like the repeating important points from time to time. You know, hypnosis is repetition and compounding. Compound your suggestions can make them work better. Repeating those important points make my remembering easier and deeeeeeeeper.
I am a NLP Trainer in Hong Kong for years and I will use much of the material in this book to improve my training content. Hoping the authors won't mind my doing so.
Dr. Keith To
Simplistic but powerful for beginning or advanced., December 14, 2001
Reviewer: Matt Sison, CH. from California, USA
When opening to read the book for the first time, don't let the simplistic style fool you. There are gems in here for beginning to advanced hypnotherapists. If you've been practicing hypnotherapy for some time you may have a tendency to skim through. That's what I did. However, since buying the book I constantly find myself referring to it before and after sessions. Mr. Banyan and Mr. Kein's selected style make it an easy read but leave the reader feeling powerfully confident knowing that any solution, simple or difficult, will be at thier finger tips!
THE TOOL OF CHOICE, October 28, 2001
Reviewer: Jenell Cothran from Poteau, OK USA
I own and have read several books and have watched many instructional videos on hypnotherapy. Calvin Banyan has put together more helpful information in his book than all the others combined. His book is much easier to understand than any I've read. All the information in his book is laid out in a step by step format. If I could have only one tool to do hypnotherapy, this book would be my Tool of Choice.
A TOUCH OF FINESSE, October 28, 2001
Reviewer: Lonnie Cothran, B.S., D.C.,C.H. from Poteau, OK USA
I have read lots of books about hypnosis, but "Hypnosis and Hypnotherapy Basic to Advanced Techniques for the Professional" is the most educational book I've read on the subject. The book explains hypnosis and the hypnosis session from A to Z in a most understandable way. It gives the reader a clearer understanding of what we, the hypnotherapists, are trying to accomplish in each step of the therapy as well as each step of each session. What I find equally as valuable about the book as its great coverage of the ABC's of hypnosis, is its information , in the form of bonus tips, that add a touch of finesse to the ABC's, or basics, of a hypnosis session. These assure that the client will have a successful session. I refer back to this book often.