Extraordinary

Healing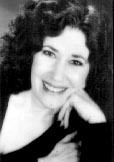 by Marilyn Gordon
Marilyn is a certified clinical hypnotherapist, teacher, speaker, healer and author with over twenty years of experience and a diverse and expansive background teaching and healing in such areas as language arts, meditation, yoga, and hypnotherapy.
A Phi Beta Kappa from the University of Michigan, she has also have been nominated to several other honorary organizations, including Phi Kappa Phi (1962) and Pi Lambda Theta (1962). She's been mentioned in Who's Who in America,... in California, ...in the West, ... in Executives and Professionals, as well as The World Who's Who of Women and The Dictionary of International Biography, and a nominee for International Woman of the Year. She has been featured on the cover of the National Guild's "Journal of Hypnotism."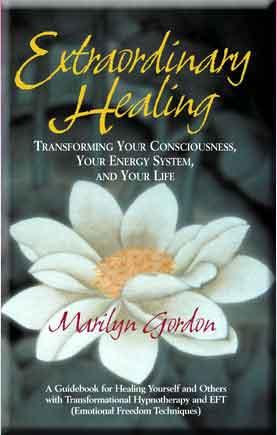 Extraordinary

Healing

is two books in one. It is first a book of wisdom that has been called "poetic and spiritual." It is also a handbook combining deep inner healing with a relatively new genre that heals by tapping the energy meridians. Easy to read and filled with many techniques and healing stories, it's both a practical and beautiful book.

This is a book not only for professionals - but also for anyone on the path of healing. It draws from many spiritual traditions: yoga philosophy, metaphysical healing, ancient and contemporary healing practices. There is an entire self-healing section, as well as a complete manual for working with others. The book is panoramic in its scope, exploring root causes of our difficulties and transcendent approaches for healing the soul. It is the culmination of many years of exploration and practice, and the transformational stories are riveting Profound and filled with love, this is a remarkable book.
What

we are saying about this book...

...a beautiful book...Marilyn Gordon writes of timeless truths...plumbs the depths of your inner being. It is for everyone." Ormand McGill, "Dean of American Hypnotists" This uplifting book is about finding your powerful healing essence within. Practical, inspirational, and easy-to-read, it gives you many specific hypnotherapy techniques and self-healing processes. Fascinating stories reveal actual hypnotherapy experiences, such as healing these important issues: food and eating problems, sexual abuse, loneliness abandonment, unworthiness, and intimidation. "...one of the most valuable guides I have read toward the discovery of the authentic self.
Dennis Michael Harness, PhD, Counseling Psychology

Marilyn is a compassionate and skilled hypnotherapist whose gift for touching people's lives comes through beautifully in her book...
Bob Oliver, Cert. Hypnotherapist

A wonderful, wonderful book!
Maxine Ashcraft, Marketing Director

I found myself entranced....Reading this book is a form of healing. I was left with a sense of peace and well-being. I want to give copies to all my friends.
Kathy Thornton

It has touched me. I could feel the presence of a healing power as I was reading it,
Carla Radosta

It's uplifting and readable with a lot of profound insight on universal issues. Terrific.
Nora Cousins