Hypnosis and Hypnotherapy

: Basic To Advanced Techniques for the Professional Table of Contents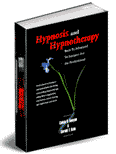 Each of the 180 techniques and procedures that are listed below are described in the book in a very easy to read and understand format. Plus there are many more bonus techniques nested throughout the book, adding up to well over 200 techniques and procedures to help make your hypnosis sessions more successful. This is truly the book I wish I had when I started!
If you are a professional hypnotist or hypnotherapist (or want to be) then this is a must have book. You will refer to it may times and learn more and more each time you read it.
Table of
Contents
PART I: GETTING OFF ON THE RIGHT FOOT
Chapter 1: Getting Started In Hypnosis And Becoming Better
Get The Best Training You Can Before You Start

Use What You Learn As Soon As You Can

Sometimes Videos Are Preferable Over Books For Learning Hypnosis

Become Affiliated With The Best Hypnosis Organizations That You Can

Join Other Professional Organization And Stay In Practice

Don't Make Guarantees Of Success, It May Be Illegal

Build Confidence By Practicing Your Skills In Role Play

Practice With Friends On Non-Therapeutic Hypnosis Sessions And Age Regressions

If You Plan To Use The Word "Sleep" Explain That You Do Not Mean Sleep Like When They Are Asleep At Night

Start Off Your Practice Working With One Or Two Popular Issues And Then Broaden Your Practice
Chapter 2: Setting Up The Office For Success
Keep A Book Of Scripts And Outlines

Keep Your Patter Script Book Out Of Sight

Prepare An Outline To Follow

Professional Advertising, Cards, Brochures, Signs, Print Ads And Yellow Pages

Answer The Telephone So That The Client Expects To Succeed

Give The Client An Estimate Of The Number Of Sessions And Keep Your Promise

Professional Environment, Office Or Home Office

Professional Attire Appropriate To The Work You Do

I Know I Shouldn't Have To Say This But Grooming Is Important Too

Avoid Scheduling Marathon Sessions

When To Schedule Marathon Sessions And How To Handle Them

Be Set Up To Audio Or Video Tape Your Sessions

Have A Tape Recorder Set Up To Take Over If You Have To Leave To Cough Or Go To The Bathroom

Have A Tape Recorder Set Up To Do The Direct Drive Technique

Have Someone You Can Consult With For Ongoing Guidance

Have Someone You Can Refer Clients To

Be A Walking, Talking Example Of How Well Hypnosis Works
Chapter 3: Preparing Your Client - Before You Begin The First Session
Send Your Soon-To-Be Client Information About Yourself And Hypnosis

Send Them A Relaxation Tape To Practice With

Always Have Your Client Go To The Bathroom Before The Session

Have Your Client Pay Before The Session

Have Your Client Fill Out A Good Intake Form

Have Your Client List The Benefits Of The Change They Want To Make

After Each Session, Always Say "I'm Glad You Enjoyed That!" The Next Client May Be Listening
Chapter 4: During The Pre-Hypnosis Interview
Go Up And Greet Your Next Client Yourself

Don't Let Your Clients Fall Asleep During The Session-- Hypnosis is Not Sleep!

Project Confidence That Things Will Go Well--Have A Yes-I-Can-Help-You-With-That Attitude!

Being Likeable Is Perhaps One Of The Single Most Important Determining Factors Of Outcome!

Let Your Clients Know That It Is Alright If They Call You (at the office)

Listen To Your Client And Find Out What She Thinks Her Problem Is

Use Active Listening Techniques So Your Client Will Feel Heard And Understood

Don't Believe What Your Client Says When She Tells You What She Thinks The Problem Is

Never Argue With Your Client, You Must Be On The Same Side-- It Should Be You And Your Client Against The Problem.

Do A Good Pre-Talk-- Remove Fears And Misconceptions And Build Trust.

Do A Brief Demo Of What Hypnosis Might Feel Like

How To Best Use Suggestibility Tests

Tape Reminders To The Side Of The Chair That Your Client Doesn't See

Use Sticky Notes For Reminders On The Outside Of Their File

Suggest That The Session Will Be Brief, A Waking Suggestion To Set Up Time Distortion

Get The Hypnotic Contract
PART II: TIPS, TRICKS AND TECHNIQUES FOR A SUCCESSFUL HYPNOSIS SESSION
Chapter 5: Increase Your Success For A Successful Age Regression
Save Age Regression For The Second Session

Let The Client Know That It's Alright If They Cough, Have To Move, Or Say, "I Can't Hear You"

If Your Client Is Wearing A Short Dress, Cover Up Her Legs With A Blanket So She Won't Have To Manage Her Dress

If You Intend To Touch The Client Get Permission Before Hypnosis Starts

Have The Client Check The Time Before The Session Starts So You Can Use Time Distortion As A Convincer

Ask Your Clients If They Are Comfortable. Discomfort May Be Distracting

Ask If The Client Is Ready To Do Hypnosis With You Now

Maintain Control Of The Session From The Star

Use The Words "As If" To Make Some Suggestions Easier To Accept

Use An Appropriate Induction For The Client

Encourage And Reinforce Any Positive Response

What To Do If Your Client Opens Her Eyes During The Session

Watch Your Client's Feet When Doing A Hypnotic Induction Or Deepening Technique--They Are Hypno-Meters!

Watch For Physiological Evidence Of Hypnosis

Hypnotize To A Depth Of Somnambulism Which Is Required For Revivification

Test Depth Of Hypnosis With A Hidden Test, So That If Your Client Fails The Test It Does Not Negatively Affect Session

Immediately Deepen The Trance, Even If You Have Established Somnambulism
Chapter 6: Deepen The State Of Hypnosis
If Needed, Deepen With Counting Down

If Needed, Deepen With Fractionation Technique

If Needed, Pyramid Inductions

Deepen By Using Anchoring, And Conditioning

Deepen Or Induce Hypnosis By Post Hypnotic Suggestion

Deepen By Using A Convincer, Always Use Convincers Are Tests You Know They Will Pass

Deepen By Having Them Become Aware Of A Sensation They Weren't Thinking About

Give The Suggestion That All Sounds, Sensations And Thoughts Take Them Deeper

If They Just Won't Go Into Hypnosis, Give Them A Tape And Have Them Practice Until Next Time

Once You Have Somnambulism Use A Key Word To Re-induce Somnambulism In Subsequent Sessions

Deeper Is Not Always Better. Some States Are Too Deep For Hypnotherapy
Chapter 7: Giving Hypnotic Suggestion
Check Out The Suggestions With The Client Ahead Of Time

Have The Client Bring Is Suggestions That They Would Like To Receive

Set Up Ideo-Motor Response

Set Up A Safe Place

Use Compounding Of Suggestion

Use Patter Scripts From Successful Therapists

Use Compounding Of Suggestion After You Emerge The Client

When You Emerge The Client, Embed Suggestions For The Change The Client Came In To See You For

When You Emerge The Client, Embed Suggestion For Time Distortion

When You Emerge The Client, Embed Suggestion For Sensitivity Of A Color Or Object

What To Do If The Client Will Not Emerge

Use The Fact That When The Client Emerges, They Are Still Highly Suggestible – Use Waking Suggestion

After You Emerge Them, Suggest A Pleasant Experience
Chapter 8: Wrapping Up The First Session
Answer Questions And Discuss Subjective Experiences

Suggest That Each Session Will Be Ten Times More Powerful Than The Time Before

Check Time Distortion

Point Out Convincers Used

Review Session And Congratulate The Client On Doing Well
PART III: TIPS, TRICKS AND TECHNIQUES FOR SUCCESSFUL AGE REGRESSION SESSIONS
Chapter 9: Preparing For The Age Regression Session
How Will You Handle A Past Life Regression If It Happens?

Review Last Session And Answer Questions

Increase Success By Saying Are You Ready For Another Hypnosis Session?

Avoid Telling The Client That You Are Going To Do An Age Regression Session
Chapter 10: Doing The Induction And Deepening for Age Regression and Subsequent Sessions
Have Your Client Quickly Re-Enter Hypnosis Using Post-Hypnotic Suggestion

Quickly Have Clients Re-Enter The Deepest State Of Hypnosis Appropriate For The Work By Using Post-Hypnotic Suggestion, Conditioning Or Anchoring

Use Similar Techniques As You Used In Previous Sessions If They Worked Before

Suggest Similar Subjective Experiences That They Shared With You In The First Session
Chapter 11: Using The Affect Bridge, Age Regression Based On A Feeling
If Using Affect Bridge, Suggest Becoming Aware Of Other Feelings Before Going To Affect (Emotions)

Watch For Physical Evidence That The Client Has Connected With The Emotion

Point Out The Change In Physiology Associated With Bringing Up The Feeling To The Client Before Proceeding

Tell The Client That The Feeling Is Connected To Every Time That They Ever Felt That Way, It Is A Bridge To The Past

Count Backwards When Going Back In Time (3, 2, 1) And Forward When Progressing Forward In Time (1, 2, 3)

Lightly Tapping On The Forehead Makes The Suggestion More Directive/Assertive And May Help In Regression

Start With Simple Questions, "Daytime Or Night Time?" "Indoors Or Outdoors," "Alone Or With Someone"

Go For First Impressions, "Quickly, First Impression, Day Time Or Night Time?"

If Client Says, "I Don't Know" Say "I Know You Don't Know, First Impression, 1, 2, 3, Day Time Or Night Time?"

Educate And Practice With Your Clients Before The Sessions If They Seem Over Anxious Or Analytical

Discuss With The Client Before Hand That Trying Too Hard Can Get In The Way. Just Have An Easy-Going Accepting Attitude Toward Instructions And Suggestions.

STAY IN PRESENT TENSE. Speaking In Past Tense Is The Biggest Mistake That Hypnotherapists Make When Attempting Age Regression

NEVER SAY, "REMEMBER!" This Is The Other Biggest Mistake That Can Take Your Client Out Of The Revivification And Put Her Into Hypermedia

Encourage Revivification By Having Them Describe Where They Are. This Deepens And Intensifies The Experience, While Bringing In More Detail.

The More Of The Senses That They Use To Describe The Regression Experience The Deeper They Go Into It

Encourage Revivification By Having Them Describe People That They May Be With

Encourage Revivification By Telling Them That They Are Going Through It Again And It Will Be Clearer

Encourage Revivification By Having Them Go Through It Again And This Time They Will Really Be There

Ask Your Client How Old She Is When In The Regressed State And Then Call Her By That Age Whenever Addressing Her In The Age-Regressed State

Ask Them What Their Name Is And If It Is Different Use It Rather Than Adult Name

Ask Them How They Are Feeling. This Tends To Deepen The Experience.

Have Her Locate Where They Are Experiencing The Feeling In Their Body
Chapter 12: Uncovering How The Problem Started, The Initial Sensitizing Event (ISE) And Subsequent Events (SSE)
Learn How To Age Regress The Client To Where It All Started, Called The Initial Sensitizing Event

If Your Are Working With A Client On Smoking Cessation, Don't Go For ISE, Rather Regress To The First Cigarette

If Trying To Uncover The ISE (Or Other Unknown Material) Never Lead The Client

Move Forward In Time With Statements Like, "What Happens Next", "Move To The Next Significant Event." And "Go On."

Avoid Questions That Start With "Why"

Never Use Leading Questions, Even Multiple Choice

Avoid Assumptive Statements

A Good Way To Do Regressions Is To Pretend In Your Mind You Are There With

Check To See If You Have Uncovered The ISE By Asking, "Is The Feeling New?"

Double Check By Instructing Your Client To Go Back

Realize That You Are Only Building Up Evidence Of An ISE

The ISE Should Be Consistent With The Known History Of The Client
Chapter 13: Transforming The Sensitizing Event Using the Informed Child Technique
The ISE Does Not Have To Be A Great Trauma In The Child's Life

Have The "Child", Go Into The Background And Say "Now I'm Speaking To The Adult"

Switch Back And Forth Between Adult And Child By Calling Child By Her Age And The Adult By "Grownup"

The Informed Child Technique Requires That You Regress Before ISE

Using The Informed Child Technique Consists Of Changing The Effect Of the ISE

Inform The Child That She Is Loveable, Capable And Remove Negative Erroneous Beliefs Created By ISE.

Inform The Child That She Gets To Grow Up

Inform The Child That The Adult-Self Must Always Tell Her The Truth

Inform The Child That Adult Will Always Be There For Her

Inform The Child That Nothing Really Bad Ever Happens

Then Have The Informed Child Go Through The ISE

If There Are Any Problems, Say "Everything Stops"

You Can Always Interrupt the Process

Take Your Client Through the ISE Again Feeling Safe and Secure

Have The Child Merge With Adult

Have Adult Recognize That She Is That Child

Have The Child Or Adult Make Statements Of Change.

Giving Suggestions After Age Regression Is A Must!
Chapter 14: Setting The Client Up With A Vision Of Success
Do A Age Progression To Provide An Expectation of Success

Do Informed Adult Technique, Where "Future Self" Informs The Client She Can Really Make The Change

After Age Progression Is An Ideal Time To Give More Suggestions For The Change That They Want To Make
Chapter 15: Age Regression To A Specific Date, Time Or Event
You Can Age Regress Your Client By Suggesting That She That She Will Go To A Particular Time, Place Or Event

Clarify The Event With The Client Before The Session

Going Through The Event Repeatedly Can Bring Out Details
Chapter 16: Wrapping Up An Age Regression Session For Maximum Results
Give Suggestions For Change While Emerging The Client. Easy Critical Factor Bypass At This Time

End the Session Powerfully By Having Your Client Proclaim the Change She Has Just Made

Have The Client Check For The Old Feeling

Do A Post Hypnotic Interview To Remind The Client Of Insights And Changes

Answer Questions About The Session
PART IV: PREPARING THE CLIENT AND THERAPIST FOR CONTINUED SUCCESS USING HYPNOSIS
Chapter 17: What You Can Do After The Session For Continued Great Results
Suggest That Each Session Will Be Ten Times More Powerful Than The One Before

Make The Next Appointment Right After Your Session Is Through

Offer The Client A Reinforcement Tape, That They Probably Won't Need To Use

Make The Next Appointment For 3 To 10 Days Apart

Offer To Teach Them Self-Hypnosis

Return Calls Right Away
Chapter 18: Continue To Learn And Grow As A Hypnotherapist
Learn About Waking Suggestion

Learn And Use Forgiveness Therapies

Learn And Use Parts Mediation Therapy

Become Trained In 5-Path An Almost Universal Approach To Dealing With Most Issues That A Hypnotherapist Encounters

Become Trained In And Use the 7th Path System of Self-Hypnosis--A Holistic, Mind-Body-Spirit Approach To Helping Yourself and Others

Learn And Use Energy Therapies Such As EFT And BSFF

Seek Out And Attend Training From Experts In Hypnosis and Hypnotherapy
*There may be some minor variations between this listing of this table of contents and the actual book. But it is expected that these changes will be minor and primarily for adding clarity.
This book and this page is under copyright. ©2001 Calvin D. Banyan. All rights reserved.