Hypnosis Sessions

and Training in Singapore

Fauziah Shah, MA, HBCE, BCH, CI, CPHI
Mobile: (+65) 9-100-0432
Telephone: (+65) 6-463-9500
E-mail: info@petrahypnosis.com
Website: www.petrahypnosis.com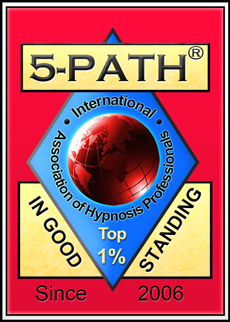 5-PATH® International Hypnosis Association Member
Background
Hi I am now well known as Fauziah Shah. My full name is Fauziah Begum Ebrahim Shah Sahib. I attribute my success to God and to the values instilled in me by my late father Ebrahim Shah and my mum Jameela. The reason for my continued success is the support and love from my immediate family- my husband and children. I have learned valuable lessons from each and every one of them, thus enhancing my ability to help others overcome their challenges and to take mastery of their lives. Last but not least is the impetus given to me by my first hypnosis teacher, Cal Banyan, whom I have honoured by naming one of the training rooms at my centre as the Banyan Room.
My varied background, academic as well as professional, has much to to do with the way I was prepared to be an effective hypnotist. It has strengthened my belief that we are all teachers and students in this rhythm of life. I realized that when there is a disruption in this rhythm, things go wrong and some intervention is necessary to put things right to allow the flow and alignment of energy systems in the mind and body to become realigned. I have had vast experience myself and so I am able to relate to those clients who are going through the same situations in life.
Training
As far as training is concerned, I believe I am fully equipped to help those in need of Counseling, Interpersonal Psychotherapy, EFT and Hypnosis. I believe in lifelong learning so I am always upgrading myself while seeing clients and training students. I have had training in a number of healing modalities like Clinical Hypnosis, 5-PATH® Hypnosis, 7th Path Self Hypnosis, Trauma and Somatic Healing, Reiki, Quantum Touch, Quantum Hypnosis, HypnoBirthing, Audiblox Mind Training, Parts Mediation Work, HypnoAnesthesia, Theta Healing and Family Constelllations.
My next full-time course in Singapore is from June 13th to June 24th from 9 am to 6/7 pm,
1st week: Monday to Saturday June 13th to 18th (6 days)
2nd week; Monday, Wednesday to Friday June 20th, June 22nd to 24th ( 4 days)
The fee is S$4,500.00. Early Bird is S$3,900.00.
I have had quality training from renowned trainers like Cal Banyan, Richard Harte, George Bien, Maggie Phillips, Mickey Mongan, Roy Hunter and Ron Eslinger, just to name a few. I have imbibed all the best traits from my teachers and evolved my own style of teaching. Please read what one of my latest certification graduates, Yusri, has to say after completing my course in July of 2009.
Yusri bin Md Yunos (School Teacher/ Hypnotist) [Did the NGH & IACT Certification Course & the Banyan Super course at our centre]
Yusri's Quote:

Since taking Fauziah's course, my life has been transformed. I used to feel anxiety almost every morning when I go to work. Since taking this course and doing 7th Path™, my anxiety has diminished and now I'm confident and happy.
As a result, I can also transform my negative experience into something positive and that makes my life happier and richer. Thanks to Fauziah, she has opened doors for me to live a rich and enjoyable life. Fauziah is a caring instructor, taking care of our needs as students of hypnosis. She has a wide and deep knowledge of the subject. As such she is able to share it with us. Fauziah is also a very approachable instructor; this makes it easier for us to ask questions and clarify matters/ doubts with her.
All in all, I got more than my money's worth.
Thanks Fauziah. I'll always have high regard of you as my hypnosis master!
Professional
Development
I am currently an NGH (National Guild of Hypnotists) Certified Instructor (CI) in Singapore. I am also one of the few NGH Board Certified Hypnotists (BCH).
In addition, I represent Cal Banyan, the founder of 5-PATH® and 7th Path and am authorized by Banyan Hypnosis Centre, USA, to teach the NGH approved Advanced 5-PATH® Hypnosis Certification Course with 7th Path Self Hypnosis® Teacher Training program in Singapore and in the region. As such I have joined the ranks of elite trainers called CPHI [Certified Professional Hypnosis Instructor]
I am also a Master Trainer with IACT (International Association of Counselors and Hypnotists) and my hypnosis training school is an IMDHA (International Medical and Dental Hypnosis Association) approved school.
I am a Charter member of the 5-PATH® Hypnosis Association and a Charter member of the Hypnosis Research Institute. This is because I believe in constantly upgrading my skills to meet the needs of my clients and students. I am the founder of two Singapore registered companies, Petra Hypnosis & Training Centre Pte Ltd and the Advanced Institute of Complementary Health Care Pte Ltd
This is what another of my Certification students, Greg Heart (Ki Lin), who completed his course many years earlier, has to say about my training program:
Quote from "Gregory Ki Lin Heart: (Success and Life Coach/ Hypnotist):[ Kilin did the NGH Hypnosis Certification, Banyan Super Course- 5-PATH® & 7th Path™, Quantum Awareness & the IACT Hypnotist Certification at our centre]
Fauziah Shah is the most understanding, insightful and accommodating trainers I have ever seen.
Her ability to always over deliver, gives great value and added benefit to everyone of her trainings.
I would highly recommend you not miss your chance to learn in a supportive, nurturing and comfortable atmosphere of Petra Hypnosis.
Experience
I have in total more than twenty years of training experience in many fields. Previously I was a school teacher. After resigning from teaching, I set up a language centre where I ran a reading, writing and spelling clinic. I also did training in Phonetics and Phonology, Time Management and Classroom Discipline, Innovative Grammar Course and Creative Writing, just to name a few. My language centre was formed in 1997; it was registered with the Ministry of Education and Case Trusted. We catered to the needs of local as well as foreign students. From the year 2000, I began to be interested in healing and started trying out various healing methods amongst my family members. In 2004, I received my first formal hypnosis training and from then on there was no turning back as I started accumulating knowledge and experience in the art and science of healing. As teaching was in my blood, I also became a hypnosis trainer. As a hypnotist, I respect client confidentiality and do not divulge any information that will enable anyone to recognize them, unless they give me explicit permission in writing to do so, which is quite rare.
I have done quite a fair bit for my country as a hypnotist. I have given people hope when they thought they had come to a dead end, and I have lifted the spirits of many who were depressed. However being only human, I do not claim to have pleased everyone but I always have my clients' and students' interests at heart. This is another testimonial that another earlier graduate, Sarravanan, has to say:
Quote from G. Sarravanan, ND, CH, D.MLD, D. Nutr, AdHRM (a. k. a. Velu) (Naturopath, Nutritionist, Reiki Master, Hypnotist}[Did the NGH Hypnosis Certification, the Banyan Super Course- 5-PATH® & 7th Path, & the IACT Hypnotist Course at our centre]:

I am honoured to be trained in the NGH Hypnotism Course, 5-PATH® Hypnosis Certification Course and the 7th Path Teachers Training Program by Ms Fauziah Shah who is also a professional practicing hypnotist.
Ms Fauziah conducts her training in small concentrated groups with personal attention given to everyone. The trainings are very practical and done in a comfortable relaxed environment.
As part of her training, she offers continued practice sessions for her students. This is a unique service which I have not seen offered anywhere. It just goes to show her commitment to professionalism for her trainees.
I enjoyed Ms Fauziah's training sessions and I appreciate the additional scripts that she provided us during training. They came in handy during the practice at my clinic.
She has also remained contactable to help trainees when there is a problem. She is quick to come with suggestions and solutions to help our clients.
Ms Fauziah is a genuine and caring person. I would recommend anyone to join Ms Fauziah for hypnosis training, certification and consultation.
I am proud of my graduates like Greg Heart, Saravanan (Velu), Lena Chen, Jaya Joseph, Richard Tan, Ian Pang, Paddy Hall, Yusri, Pak Abdul (Kadir) and Ric Ow, and others like them who have started using the skills that they learnt in the classroom and seeing phenomenal results. Many people are beginning to realize the importance of hypnosis as a treatment modality. It is now known that about 70% of people who visit allopathic doctors are suffering from ailments that are stress induced and they will not benefit from medication alone. When the ailments are caused by negative thoughts or emotions, hypnosis is a good way to deal with them. Many medical doctors are beginning to see the importance of having a hypnotist on their team to ensure the total well being of their patients.
As part of ensuring that our hypnotists are able to upgrade their skills, I sometimes host workshops conducted by foreign experts. For example in November 2007, I brought in Dr Ashok Jain from USA to lecture on Dream Interpretation and Therapeutic Quantum Awareness which attracted a total of 30 participants. Then in September of 2009, I helped Thom Bush to promote a course on CBT supposed to be conducted by UK trainers Shawn Brookehouse and Fiona Biddle.
I also conduct or organise in-house seminar series for the benefit of practising hypnotists. For example in March of 2009, I gave a talk using power point presentation on OCD (Obsessive Compulsive Disorders) and the Healing Power of Love and it was attended by about 27 hypnotists. In April of 2009 at the Body Mind Spirit Festival at Fort Canning Centre, I talked about Emotional Health and how it is important to maintain mental and emotional health, and not just physical health and how doing hypnosis can help.
Then in October of 2009, I organized a sharing session for hypnotists which attracted about 21 hypnotists. Yusri Yunus shared his journey into the world of hypnotism using power point presentation, Victor Gomez talked about hypnosis from the training perspective while Ian Pang shared the challenges he faced doing hypnosis in the Chinese language while he helped a client who blushed excessively. Then I shared how I manage clients who come in for fear and taught an interesting technique on how I can get a client to accept responsibility for having created that fear and also how the client can destroy that fear. Finally Di Bustamante talked about HypnoBirthing® and how women can have their babies in a relatively painless and beautiful way.
My vision is to promote more such courses and seminars for the benefit of our hypnosis profession. Please do keep in touch if you want to know more about our upcoming events. Please send us an email to fbs@consultant.com to request to be on our mailing list.
Thank you. Fauziah Shah
Additional Information

about Training and Certification

This hypnotist has received hypnosis training at the Banyan Hypnosis Center for Training & Services, Inc. For more information about hypnosis certification please call our office, 469-969-2176 or 800-965-3390. More hypnosis training information is available on this site.